Sports, games and fun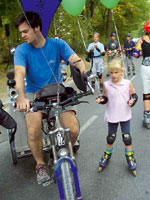 Wether it´s football, ice hockey or athletics – Düsseldorf has a lot to offer its sports fans. Every summer, for example, the Tennis Team Championship is held at the Rochusclub in Düsseldorf, where the world´s eight best nations compete against each other in singles and doubles.
And in winter, the state capital offers a special scene on the banks of the Rhine to top cross-country-skiers, who fight for World Cup points every year here, watched by more than 200,000 spectators.
But not only professionals are encouraged in the Rhine metropolis. All the other inhabitants of Düsseldorf are always on the go as well. The city´s excellent recreational facilities leave them hardly any choice.