Public transportation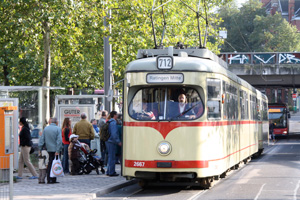 In Düsseldorf and its surrounding area, regional and commuter trains as well as busses, a subway and trams make up the extensive network of public transportation.
As a regional transportation provider, the Rheinbahn makes sure that you´ll quickly reach your destination anywhere and everywhere, in Düsseldorf, in Kreis Mettmann and the city of Meerbusch, be it to work, to school, to important business appointments, even to the many shopping opportunities or the locations for your most varied leisure and tourist excursions.
About 720,000 travelers take advantage of the Rheinbahn´s services on a daily basis. That makes it one of the largest transportation companies in Germany.
The Rheinbahn is a member of the VRR, the Rhine-Ruhr transportation alliance, which has a uniform price and ticket structure.
So you need just one ticket in the required rate category for your trip.
The region is divided into 58 rate districts, which translates to five separate price categories (short distance, A, B, C, and D). Trips within a city are always in price category A. So in Düsseldorf it costs 1.30 euro for a short-distance trip (up to 3 stations), and you pay 2.30 euro for a single trip.
More information available on this site
www.rheinbahn.de