Please register - Düsseldorf´s authorities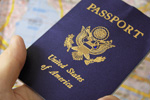 Put your name here, your address there, then sign on the dotted line... if you want to be able to watch TV in your new home, make a phone call, turn on the heating or the lights, you have to fill in lots of forms.
The trip to the Einwohnermeldeamt (Residents Registration Office) should be one of the first things you do because according to North Rhine-Westphalia's registration law you are obliged to register in your new district within a week after moving.
Penalties may apply if you leave it longer. Furthermore, you only feel like a genuine Düsseldorf resident when it's official, don't you?