International schools in Düsseldorf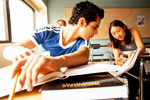 There are a series of international schools in Düsseldorf and the surrounding areas.
The International School of Düsseldorf, the International School in Heiligenhaus and the Internationale Schule am Rhein in Neuss offer children from Germany and abroad the opportunity to study English for international leaving qualifications.
Düsseldorf´s large Japanese community is well catered for with four kindergardens and the Japanese School.
Besides there are a number of state bilingual schools as well as private schools.
Childcare in Düsseldorf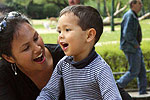 If you move to Düsseldorf with children, you have yet another reason to be happy because the city is well placed in comparison with other parts of Germany for its provision of education and childcare.
Since August 2009, childcare places for youngsters aged three to the statutory school age of six have been free, regardless of whether the child attends a private or public day care center:
In over 100 public educational establishments across the city children from 40 countries aged from four months to 14 years are well looked after; usually for nine hours.
The city is also constantly expanding the provision of day care for children aged below three.