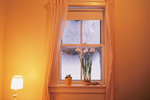 It's difficult to find a nice and at the same time affordable appartment in Düsseldorf.
The state capital has the highest rents in North Rhine-Westphalia at 8 euro per sq m and rents are also among the highest among all German big cities.

In recent years Düsseldorf has become an increasingly popular place to live, which naturally is reflected in rental prices.
In addition, over 80 percent of the 330,000 rental properties are already more than 30 years old.
To ensure that there are enough homes in the future, a new housing development strategy foresees the building of 28,000 new apartments by 2020.
Currently there are enough apartments available, despite the city's high rate of newcomers, at least in the mid and upper price ranges.
If you don't have much money, you need to be patient and a little lucky because the availability of lower priced apartments is limited.