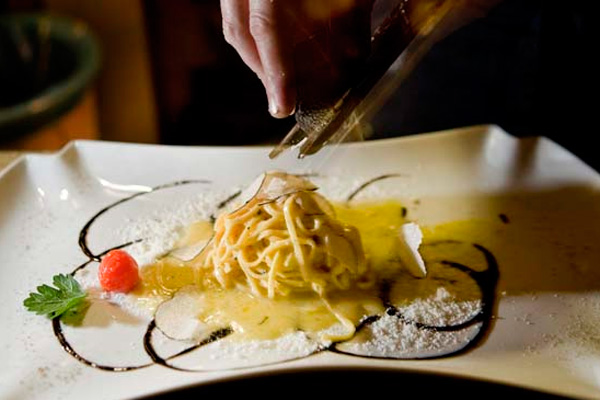 Düsseldorf is a city with many faces and the diversity of the cosmopolitan Rhine metropolis is also evident in its culinary offerings.
It´s well known that the city has a large Japanese population and Düsseldorf natives have long been on first name terms with sushi and other Asian specialties and have even integrated them in their menus.
As the city is also an important fashion, media and trade fair center, you cannot avoid "lifestyle" and the theme is reflected in the variety of culinary concepts.
For example, in the Restaurant Lido gourmet cuisine is served amid spectacular architecture in the form of a glass cube and a fantastic view of the riverside harbor.
If you´re looking for something more nostalgic, try the area around the former railway goods yard where Tußmannstraße has become a gastronomic paradise with well-tested bistros and neighborhood restaurants but also some interesting newcomers.
Thanks to its location by the Rhine, Düsseldorf also has a maritime flair and culinary attractions.
It´s not only the Medienhafen that offers lots of good restaurants where you can taste marine life, such as the chic Hafenperle, you can also land a few well-cooked big fish near the city center, for example in the Fischhaus in the Altstadt (old city).

And if you prefer to eat in apporpriate surroundings, simply hop on board the Canoo boat restaurant at the Robert-Lehr-Ufer when the weather is good and enjoy fine dining. Naturally lovers of Mediterranean cuisine can enjoy their favorite food to the full in Düsseldorf.

The many Italian restaurants bring a touch of La Dolce Vita to the city in true sense. There are also French bistros, Greek taverns, Spanish tapas bars or snack places for a quick bite.
In fact, you´re spoilt for choice. If you want to try something from outside Europe, a world of Oriental, African and American taste sensations awaits exploration without crossing the big pond.

But let´s come back to local cuisine. The birthplace of the German poet Heinrich Heine has lots of traditional local restaurants and brewery pubs with appropriate Düsseldorf specialties such as roast meat in mustard and various snacks, accompanied by a freshly pulled Altbier.

The Köbesse (waiters) know their jobs well and are always ready to bring another fresh beer.
And it´s good to know that all this will be served up with a good-sized portion of Rhineland joie de vivre.