Promotion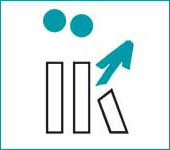 The Institut für Internationale Kommunikation e.V. (Institute for International Communication) is a non-profit-making institute that was founded in 1989 as a spin-off from the University of Düsseldorf. The IIK has locations in Düsseldorf and Berlin, and cooperates with numerous companies and universities in Germany and internationally. It is one of Germany's most successful university-connected further education institutes for foreign language training.

Foreign language courses:
››

German as a Foreign Language

››

English

››

Dutch

››

Spanish

››

French

››

Turkish

››

Globally recognized examinations including preparation for: TOEFL, TOEIC, GMAT, WiDaF

››

Communication and management training for academic and professional use

››

Advanced training for teaching staff
Language teachers with professional qualifications who are native speakers and homogeneous groups ensure quick and successful learning. One-on-one training and individually tailored courses for companies are also possible. A richly varied cultural and leisure program complements the lessons..



---
{gallery}photogallery/duess/iik{/gallery}
---
{googleMaps addr="Palmenstraße 25, 40217 Düsseldorf, Germany"}
Contact
:
Institut für Internationale Kommunikation e.V. in Düsseldorf und Berlin
Palmenstraße 25 und Friedrichstraße 26
40217 Düsseldorf
Tel. +49 (0)211 566 22-0
This email address is being protected from spambots. You need JavaScript enabled to view it.