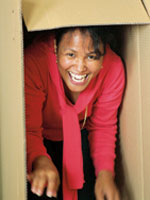 After you've found your new home, you'll want to make your moving day a success too. In addition to many helping hands and packing boxes you will need a furniture truck and, of course, free parking space in front of your old and new place of residence.

The traffic bureau expressly points out in this regard that, for example, putting out garbage cans with barrier tape to keep parking spaces free when you are moving is forbidden under traffic regulations and recommends instead parking several vehicles in the relevant places as placeholders the evening before moving.

Only in special situations – under difficult traffic conditions or especially complicated local conditions – will authorities grant approval for setting up "no parking" signs for a handling fee of € 27.50. The request must be submitted at least two weeks before the moving date.


If there is a general, complete parking ban in front of the new property, you will need special permission on the moving date; this must also be requested two weeks before the moving date and costs € 33.

In case you decide to hand over the entire process of moving to a relocation company, you won't have to put up with problems like that of course. This is the most care-free way of moving – no doubt. Depending on how much you want to spend, you can buy everything from packing boxes to shoulder straps; from a few helping hands with a van to a complete relocation service, whereby you can just sit back and relax and everything – from packing to unpacking – is done for you.

To be sure that people can still reach you at your new address, don't forget to leave forwarding instructions with the postal service so mail is forwarded to your new address. This can be done on the internet at www.post.de. To have your mail forwarded costs € 15.20 for six months and € 25.20 for 12 months. The Deutsche Telekom also offers help at www.t-com.de/umzugsservice. Among other things you can provide for your new telephone number to be announced to anyone calling your former number for four weeks.