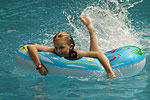 More than 800 sports clubs in Cologne and over 250 in Bonn make choosing a suitable sport difficult for residents.
Aerobics, golf, climbing, yoga, or something different such as darts, football-tennis, underwater rugby or petanque are just a small sample of the sports that the two Rhine cities can offer. In addition, lots of fitness centers, private running groups and swimming pools keep Rhineland residents exercising.
For many, taking part in sport is not just about keeping fit and active – it offers a feeling of togetherness and a chance to meet like-minded People.
This is especially true for the many private sports groups whose purpose is not all about winning. Newcomers to Cologne and Bonn will not feel alone for long in these clubs.

If you prefer to be a spectator rather than an active sports participant, there are plenty of sporting venues by the Rhine where regular international competitions take place.
In 2010, Cologne, along with Mannheim and Gelsenkirchen, was the venue for the 2010 Ice Hockey World Championships.
Above everything else, Cologne people get really excited about the FC Cologne professional soccer team and the Kölner Haie (Cologne Sharks) ice hockey team.
What the Sharks are to Cologne, the Telekom Baskets are to Bonn.
The Telekom Baskets are a successful basketball club who have shared the new Telekom Dome hall since 2008 and are still waiting for the big breakthrough after years of coming second in their league.

Showing the importance of sports in Cologne is the fact that the city is home to Germany´s only sports university.
But the city authorities and sports associations both agree that there is room for more.

The Sportstadt Köln (Sport City Cologne) project was launched in 2007 with over 120 individual schemes that have the common goal of developing and optimizing Cologne´s sporting opportunities.