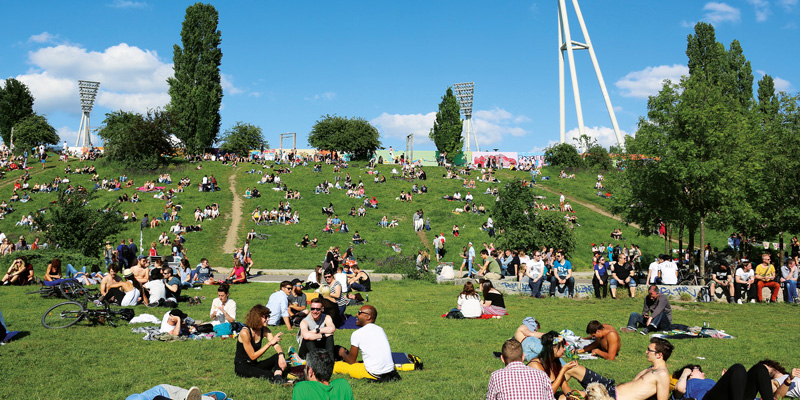 Mauerpark
No other European city has such a rich variety of attractions for aquatic sports lovers and bathers as Berlin. Ger­many's capital is not only one of Europe's greenest big cities but also one of the richest in water. Some 25 natural lakes and three major rivers cover about 7 percent of the area, mak­ing Berlin a perfect location for water fans. The most famous lakes are probably the Großer Wannsee and the Großer Müggelsee. On and around these two lakes, any nature lover is bound to have a great time whether rowing a boat, sailing or cycling along the extensive tracks in the surrounding woods.

Nature lovers will also be happy to find a world of parks and gardens even in the city center. In May 2010, Berlin's park landscape grew with the opening of Tempelhofer Park. The 350-hectare park on the site of the former airport of the same name replaced the Tiergarten as the city's biggest park. In the zoological gardens, one of the city's two zoos, you can combine a Sunday stroll in the greenery with seeing big cats and elephants. This is the world's most species-rich zoo, housing over 17,000 animals.

Berlin has lots of parks, large woods and recreation areas, gardens and green spaces but the surround­ing Brandenburg area is also worth a visit with its nature reserves, lakes, rivers, castles and stately homes. Sanssouci Park with its magical palace is the region's most famous stately home. It's very near Berlin in Brandenburg's capital, Potsdam, and is protected by UNESCO as a World Heritage Site.