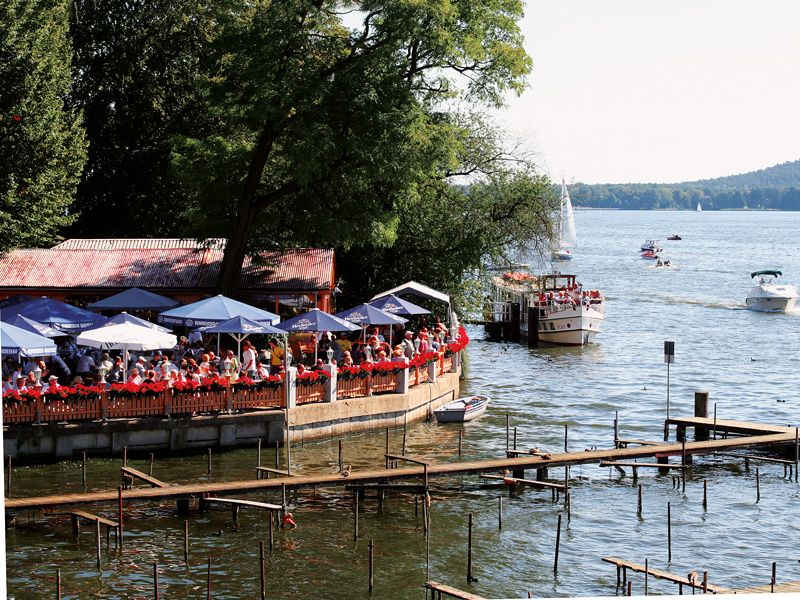 Müggelsee
In Berlin you can have fun with your family at any time. You can encounter animals in two zoos and in the new Sea Life Center in central Berlin. At the Filmpark Babelsberg, opened in 1991, you can find out how quadrupeds and avian actors are trained for movie performances. Many other attractions, such as the spectacular stunt show and the 4D action cinema, make a trip to Potsdam unforgettable for parents and their offspring alike. Another great outing for the entire family is the The Story of Berlin museum.
In more than 20 themed rooms, Ber­lin's lively history, starting when the city was first mentioned in a document in 1237, until the present day is illustrated by educational, artistic multimedia installations. In addition, children can learn more about Berlin's history by playing a quiz game or participating in a guided tour for children. Berlin's Fernsehturm (TV Tower) certainly is a piece of history in itself. An elevator takes you to its top, 200 m above the city, in just 40 seconds. From the panaroma level and from the Telecafé that rotates 360 degrees every 30 minutes, you have a great view. In good weather you can see as far away as 40 km.
Visitors to the Wilhelm-Förster or Archenhold observatories can see objects even further away in the vast emptiness of space. The guided planetarium tours for children are particularly popular with kids. Here you can almost reach for the stars, or find out what your zodiac sign really looks like, from Capricorn to Sagittarius. By the way, the Big Dipper is known as the Big Bear in German. With the emblematic bear on its city coat of arms, this must truly be Berlin's very own star sign.
More tips:
›› FEZ Berlin
---