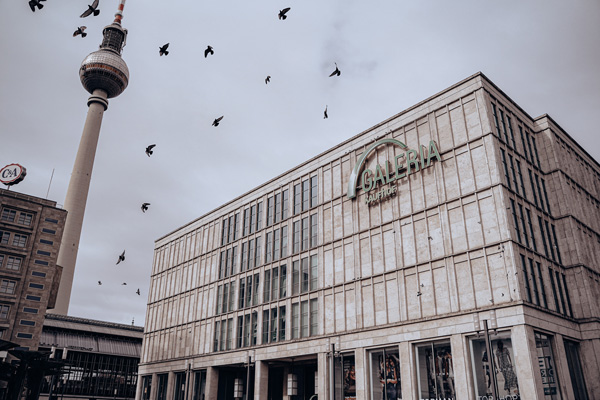 Galeria Kaufhof, @marinajuli, unsplash.com
A colorful mixture of specialty stores and small shops can be found on Fried­richs­hain's Frankfurter Allee and Karl-Marx-Allee. In Kreuzberg, the main shopp­ing areas are on Wrangel-, Bergmann-, Skalitzer and Oranienstraße, all inhabitated by some rather creative people. On Graefestraße you can find Germany's only licorice store, for example. Zossener Straße is another place full of surprises. "Grober Unfug" (monkey business) offers comic books from all over the world and collector "Knopf-Paul" (Button-Paul) has 1.5 million buttons in his assortment.
Towards Neukölln there are fewer curiosities. On the other hand, you can shop indoors here: The giant "Gropius Passagen" is Berlin's largest mall. The "Neukölln Arcaden," a mall with 60 stores, is smaller, but just as modern. If you come here, don't forget to take a walk down Karl-Marx-Straße, as well. This is one of the most popular shopping streets in southern Berlin.

Shopping highlights
---
Broken English
››
Kreuzberg, Körte Str. 10, Tel. 6 91 12 27
www.brokenenglish.de
Galeria Kaufhof

››
Friedrichshain, Koppen Str. 8, Tel. 24 54 00
www.galeria-kaufhof.de
Gropius Passagen

››
Neukölln, Johannisthaler Chaussee 297-325, Tel. 6 66 91 20
www.gropius-passagen.de
Hanfhaus Kreuzberg

››
Kreuzberg, Oranien Str. 192, Tel. 6 14 81 02
www.hanfhaus-kreuzberg.de
Kind Boulevard

››
Neukölln, Hermann Str. 214-216, Tel. 62 70 85
www.kindboulevard.de
Mondos Arts

››
Friedrichshain, Schreiner Str. 6, Tel. 42 01 07 78
www.mondosarts.de
Neukölln Arcaden

››
Neukölln, Karl-Marx-Str. 66, Tel. 6 27 39 73
www.forum-neukoelln.com
Paul Knopf
››
Kreuzberg, Zossener Str. 10, Tel. 6 92 12 12
www.paulknopf.de
Ring-Center
››
Friedrichshain, Frankfurter Allee 111, Tel. 4 22 64 70
tausche Taschen
››
Friedrichshain, Krossener Str. 19, Tel. 34 71 11 50
www.tausche.de