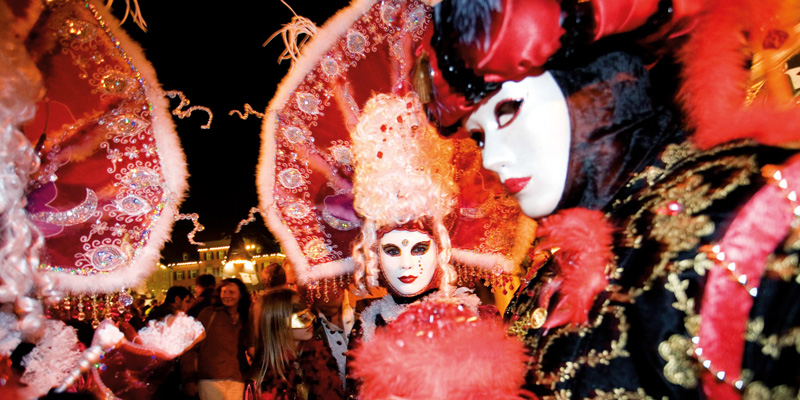 Venezianische Messe
Stuttgart is not only the city of wine and of automobiles, it´s also the city of joie de vivre and of boisterous festivals.
Sometimes sporty, sometimes light-hearted, but always magical, these put the citizens of Stuttgart in a great mood at any time of the year!
A glimpse of the chock-full calendar of events of this "little metropolis" is enough to know that Swabians know how to party heartily.
The mother of all festivals in Stuttgart has been taking place since 1818 on the "Cannstatter Wasen" – the second largest beer festival in Germany.
When it´s in session, the festival square of the otherwise tranquil Bad Cannstatt becomes a funfair for 4.5 million visitors from all over the world.
These can test their ability to hold their liquor in the original beer tents, experience the ultimate kick on hair-raising rides and marvel at the grandiose musical fireworks presentation.
But Stuttgart also has elegant celebrations: the Sommerfest (summer festival) surrounding Schlossplatz square, where gourmets from throughout Germany meet, is another of the highlights of the year.
Music performances and top gastronomy ensure the ultimate summer night´s feeling – enjoyment that´s a feast for all the senses.
The Lichterfest (festival of lights) is celebrated just as romantically and atmospherically on Killesberg hill.
In the exposed Halbhöhenlage (hilly area), you can float away into a fantastic world of colored lights.

You can become intoxicated not only on wine and champagne, but just as well on the performances by the artists and fireworks virtuosos who transform the night sky over Stuttgart into a sea of glittering stars.
You may also be seeing stars on the Stuttgarter Weindorf in the city center. The idyllic vine arbors in which the delicious wine is served ensure a lot of flair and a good mood.

But be careful: Riesling, Trollinger and Schillerwein wines taste so good that your world may consist of lots of glittering stars – and you won´t even have to look into the night sky to see them!