---
Stuttgarter Filmwinter

Important festival for experimental films.
››
4 days, Wand 5 e.V., Friedrich Str. 23a, Tel. 99 33 980, www.filmwinter.de
CMT - Urlaubsmesse

››
8 days, Neue Messe
www.messe-stuttgart.de
››
Back
February
---
ECLAT Festival für Neue Musik

In addition to many concert performances, a prize for composition is awarded during the festival.
››
5 days, Theaterhaus Stuttgart, www.eclat.org
Faschingsumzug

Mardi Gras parade through the city center on Shrove Tuesday.
››
1 day
››
Back
March
---
Solo-Tanz-Theater Festival

Competition for contemporary choreographers and young dancers.
››
4 days, Kulturzentrum Treffpunkt Rotebühlplatz, www.treffpunkt-rotebuehlplatz.de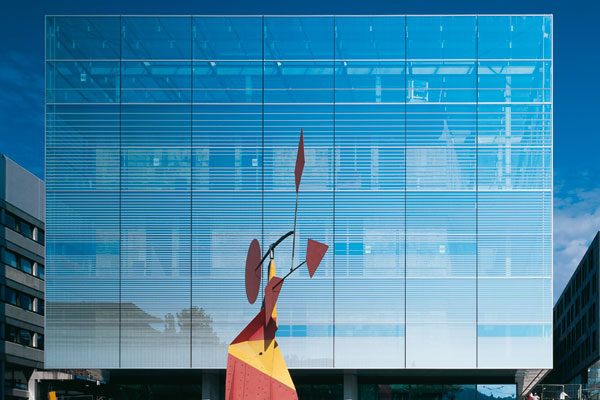 Lange Nacht der Museen

More than 90 cultural institutions open their doors from 7 pm to 2 am, including many special events and parties.
››
1 evening, www.lange-nacht.de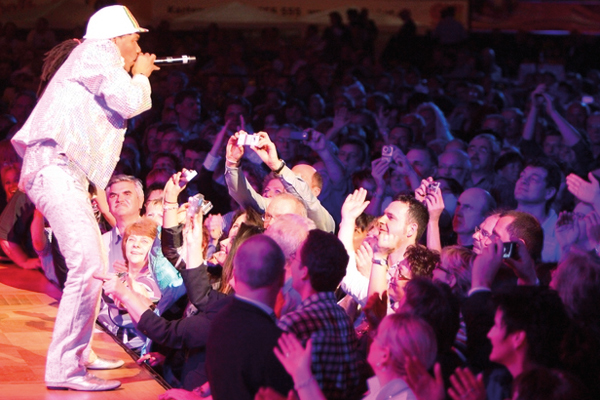 Porsche Music-Night

Since 1991, classics from rock and pop have ensured an exuberant mood in Stuttgart's Schleyer Halle.
››
2 days, Hanns-Martin-Schleyer Halle, www.porsche-music-night.de
››
Back
April
---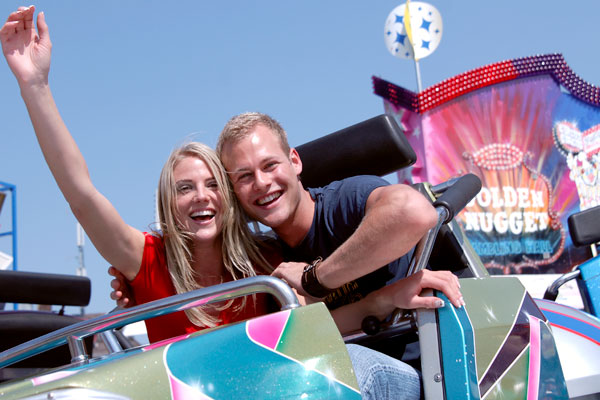 Frühlingsfest

Colorful spring fair on the Cannstatter Wasen.
››
3 weeks, www.stuttgarter-fruehlingsfest.de
››
Back
May
---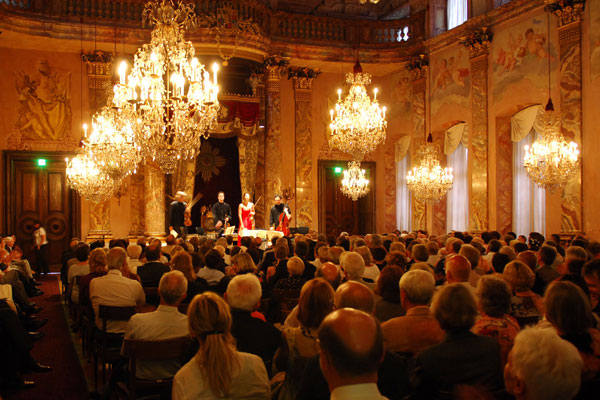 Ludwigsburger Schlossfestspiele
Traditional music festival focusing on classical music; an enchanting ambience in the royal Ludwigsburg castle.
››
May-July, Ludwigsburg & various locations throughout Baden-Württemberg, www.schlossfestspiele.de


Stuttgarter Zeitung-Lauf

Popular sports event in the Neckar­ Park. There's also a trade fair covering running and a health symposium.
››
2 days, www.stuttgarter-zeitung-lauf.de
Trickfilmfestival

Some 5,000 films thrill young and old every year.
››
6 days, www.itfs.de
››
Back
June
---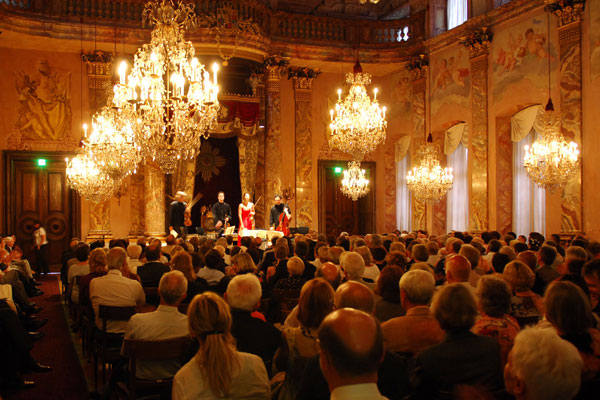 Ludwigsburger Schlossfestspiele

››
3 months, Ludwigsburg & various locations in Baden-Württemberg, www.schlossfestspiele.de

Sommerfestival der Kulturen

Intercultural festival with musical highlights from 20 countries.
››
6 days, Stuttgarter Marktplatz
››
Back
July
---
Bollywood and beyond

Over 10,000 movie fans every year visit Stuttgart's unique film festival revolving totally around the Indian subcontinent. Big finale party and many extra events.
››
5 days, Filmbüro Baden-Württemberg e.V., Friedrichstr. 23a, Tel. 22 10 67, www.bollywood-festival.de
Lichterfest

Don't miss the festival of lights on the Killesberg hill, with its illuminations, live bands, enchanted forest and of course, grandiose closing fireworks.
››
1 day, Höhenpark Killesberg, www.lichterfest-stuttgart.de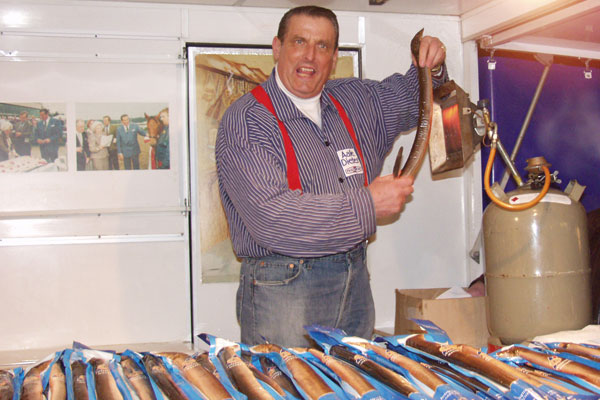 Hamburger Fischmarkt

Fish merchants ballyhoo their goods over 10 days, turning Stuttgart's center into a maritime gourmands' paradise.
››
11 days, Mitte, Karlsplatz, www.original-hamburger-fischmarkt.de
Bohnenviertelfest

Traditional street festival with many colorful stalls, live music and various performances including dance and theater.
››
3 days, www.das-bohnenviertelfest.de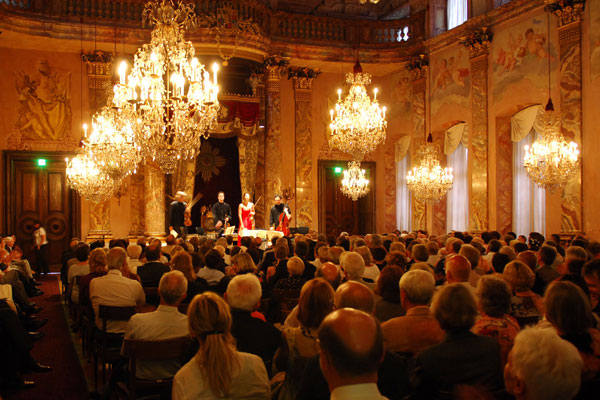 Ludwigsburger Schlossfestspiele

See May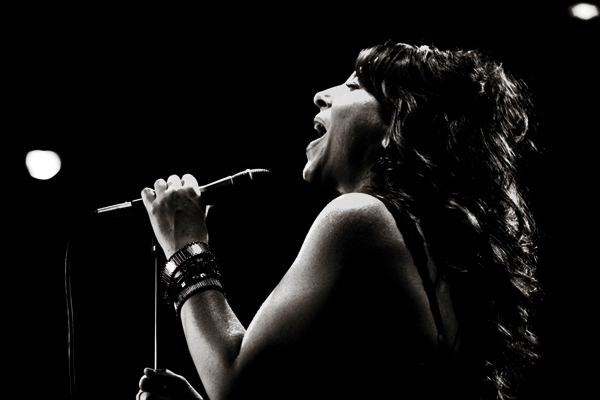 jazzopen

Renowned jazz festival with several stages and great atmosphere.
››
10 days, various locations, www.jazzopen.com
Stuttgarter Märchenhafte Festwoche

For a week, the Theater in der Badewanne gives many different companies a stage to bring to life puppets and marionettes, delighting not just children's fantasies.
››
1 week, www.theater-in-der-badewanne.de
Schwörtag & Bürgerfest

Largest festival, with performance stage, in Esslingen's (Altstadt) Old City.
››
2 days, Esslingen
Stuttgarter Hofkonzerte

Klassische Konzerte unter freiem Himmel im Renaissance-Hof des Alten Schlosses.
››
2 July weekends, Mitte, courtyard of the Altes Schloss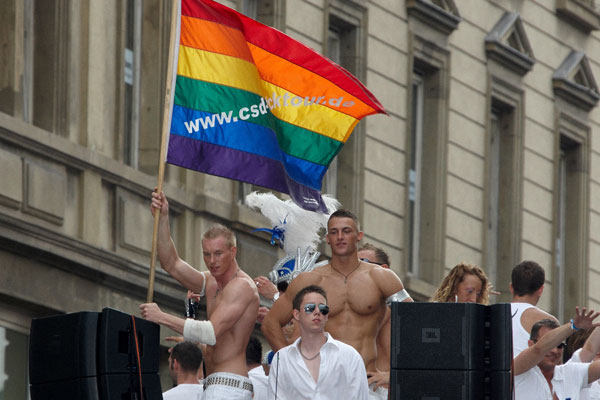 Christopher Street Day

Gay Pride event where gays and lesbians party and demonstrate in Stuttgart center.
››
1 day, www.csd-stuttgart.de
››
Back
August
---
Esslinger Zwiebelfest

During the traditional Ess­linger Zwiebelfest (onion festival), a varied program with shows and Swabian specialties is staged in the Altstadt (Old City).
››
11 days, Altstadt Esslingen, www.esslingerzwiebelfest.de
Stuttgarter Weindorf

More than 250 delicious wines and Swabian tidbits await epicures from throughout Germany.
››
12 days, Mitte, Markt- und Schillerplatz, www.stuttgarter-weindorf.de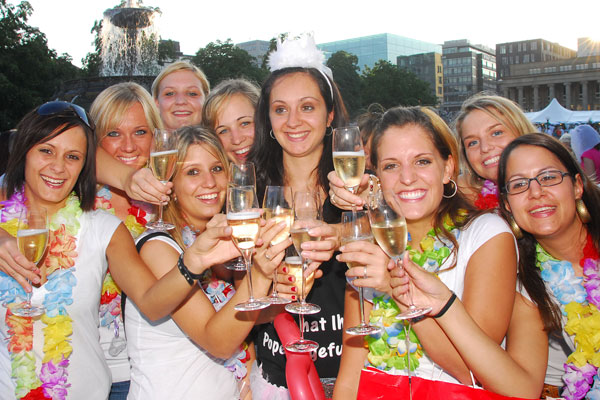 Sommerfest

Wonderfully staged summer festival that provides a colorful potpourri of culinary and musical delights in the Schlossplatz square area.
››
4 days, Mitte, www.sommerfest-stuttgart.de
Klinke-SommerMusikFestival

Festival staged by the Merlin cultural center at which music lovers of all genres, from rock to classic, can find what they are looking for.
››
1 month, Mitte, www.merlin-kultur.de
››
Back
September
---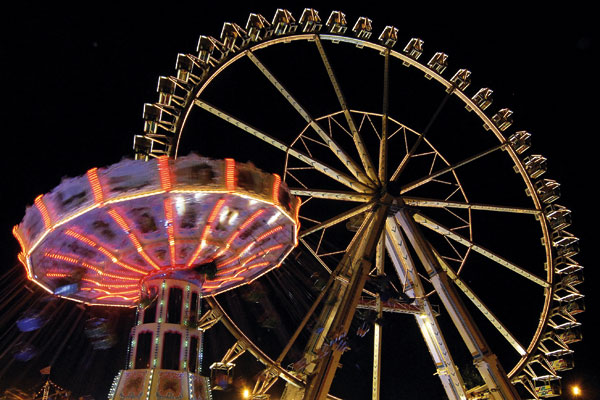 Cannstatter Volksfest

Europe's largest funfair has rides such as the Big Wheel and chairoplane as well as a colorful merchants' market and magnificent musical fireworks.
››
17 days, Bad Cannstatt, Auf den Wasen, www.cannstatter-volksfest.de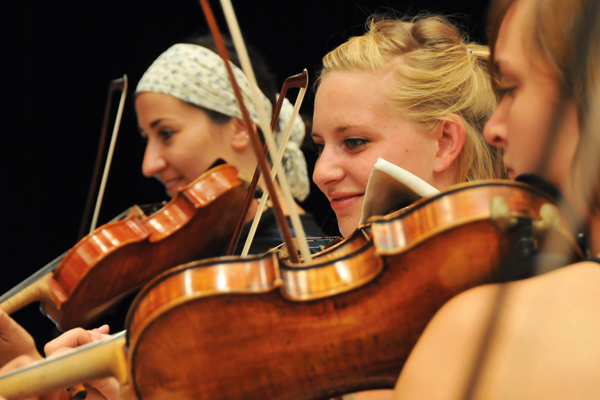 Europäisches Musikfest

Music festival of the Stuttgart Bach Academy, with many concerts, international soloists and master classes.
››
3 weeks, Mitte, www.musikfest.de
Venezianische Messe Ludwigsburg

For 3 days, Ludwigsburg's Altstadt (Old City) carries you away into the dreamy scenery of a Venetian masked festival with many artistic performances.
››
3 days, www.venezianische-messe.de
››
Back
October
---
Die Stuttgartnacht

70 different cultural institutions in Stuttgart open their gates for one evening, offering a colorful program of events, from theater to literature, music and film.
››
1 evening, various locations, www.die-stuttgartnacht.de
Stuttgarter ChanSongFest

Largest festival in Germany for innovative German pop music.
››
10 days, various locations, www.stuttgarter-chansonfest.de
››
Back
November
---
Stuttgarter Buchwochen

Bookworms can browse through and inform themselves about the offerings of more than 350 publishing houses; there are also readings and a children's program.
››
3,5 weeks, Mitte, Haus der Wirtschaft, www.buchwochen.de
Lange Kriminacht

From 7 pm until the witching hour, several crime writers read from their killer short stories, ensuring a high level of suspense.
››
1 evenings, Mitte, Haus der Wirtschaft, www.stuttgarts-lange-kriminacht.de
SETT – Stuttgarter Europa Theatertreffen

Theater presentations from throughout Europe are on the program of this international festival.
››
17 days, Theater Tribüne, www.sett-festival.eu
››
Back
December
---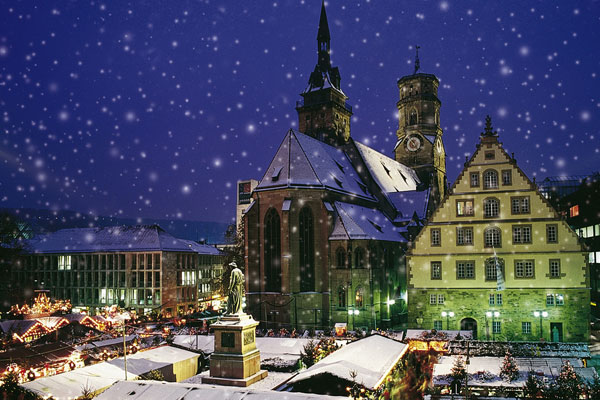 Christmas markets

››
1 month
››
Mitte, Markt-, Schiller- & Schlossplatz 10 am-9 pm, with wonderland
››
Esslingen, medieval market & Weihnachtsmarkt, 11 am-8.30 pm
››
Waiblingen, historic Christmas market Weihnachtsmarkt with petting zoo, 12 pm-8.30 pm
››
Ludwigsburg, baroque Christmas market, daily children's program such as marionette theater, puppet show and magic shows
››
www.stuttgarter-weihnachtsmarkt.de
Wintertraum

Wintertime ice-skating delights for young and old on Stuttgart's prettiest square with skate rental, mulled wine stands and lots of flair.
››
Mid November-January 1st, Mitte, Schlossplatz, www.wintertraum-stuttgart.de
››
Back