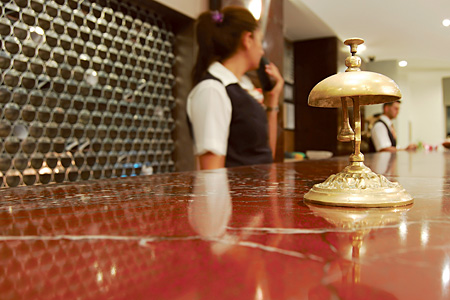 © tunart, iStockphoto
Stuttgart serves up an expansive buffet of rooms, with over 17,000 guest beds in all categories.
More than 160 hotels, bed-and-breakfast establishments and guest houses accommodated more than 2.7 million domestic and international guests in 2008.
The city is becoming more and more popular as a tourist destination, having doubled the number of overnight stays in the last few years.
No wonder that a night in Stuttgart is not particularly cheap compared to the rest of Germany.
The average price for an overnight stay is € 109.
A night in a hotel is more expensive only in Munich (€ 116) and in Frankfurt and Cologne, where you will have to shell out € 119.
Nevertheless, everyone will certainly find a suitable place to stay in Stuttgart.
The hotel landscape offers diverse accommodations, from the Swabianly inexpensive Alex 30 hostel in the city center to the Höhenhotel Seybold, located in a villa on a beautiful hillside – where Michael Schumacher once felt at home – to the Hotel am Schlossgarten, the "5-Star Leading Hotel of the World" in the wonderful park of the Schlossgarten garden.

Nature lovers will enjoy the idyllic forest hotels, such as the Waldhotel Degerloch or the Relexa Waldhotel Schatten.
Here, you'll find a place to relax, but can nevertheless be downtown in the blink of an eye.
A real hotel highlight is the Zauberlehrling in the old Bohnen quarter, with 17 theme-based rooms – from Mondschau (Moonview) to Titanic – that will carry you away to new worlds.

If you intend to stay in town longer without spending a fortune, you could consider an apartment hotel.
There you can move into a fully furnished and equipped apartment, including kitchen, Internet access and separate office, immediately and without bringing your own truck of furniture.
The price per night is usually significantly lower if you stay for a minimum period of four weeks.