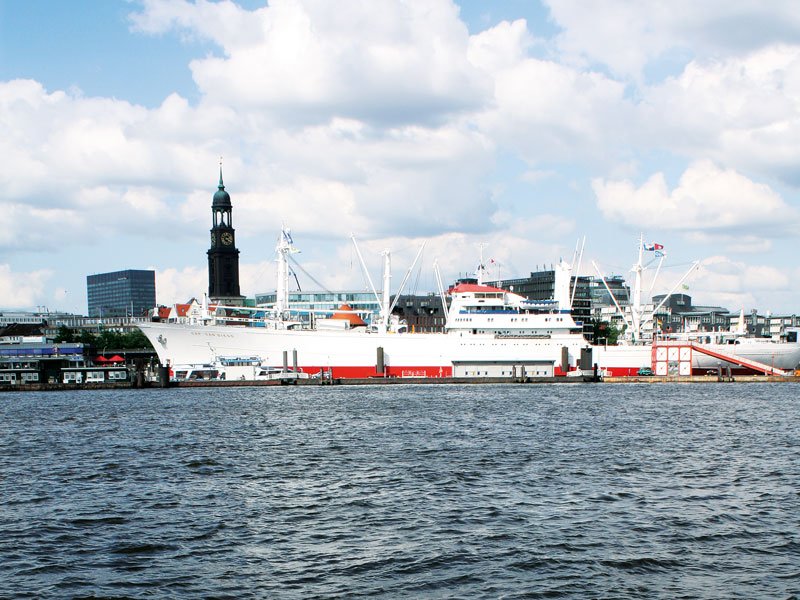 Hafen, St Michaelis, © NEW IN THE CITY
About 8 percent of Hamburg's surface is covered by water, the element that makes the city an international gateway. Hamburg is also known as a Hanseatic city, a term dating from the Middle Ages, when it was a member of the Hanseatic League of trading cities. Hamburg's harbor is Germany's biggest seaport and is back on its accustomed growth path after a difficult business year in 2009.

That's why the port's "birthday" was celebrated with gusto by 1 million people over three days in May 2010 just like it is every year. Hamburg's citizens love their port. It's thanks to the harbour that the city has attractions such as the Ree­perbahn, which developed as a sailors' amusement area, or the famous Fish Market or the historic Speicherstadt, which is the world's largest warehouse complex, or the Hagenbecks Tierpark, Germany's most successful private zoo.
The port's appeal will be boosted even more by the planned Hafen­City (Harbour City) urban development project. Hamburg is a true boomtown with a growing population and its residents gain more self-confidence every day. The New Trade Fair center with 11 halls and significantly more exhibition space has become a globally attractive location since it was renovated and expanded at the end of 2008. Hamburg is the only German city with two soccer teams in the Bundesliga after St. Pauli joined Hamburg FC in the national league for the 2010/2011 season. Every year new hotels, businesses, museums and restaurants open. The airport has been modernized extensively and connected to the S-Bahn local rail network. The journey from the main train station to the airport now takes only 25 minutes. Hamburg's youngest district, HafenCity, is set to have a connection to the city center in 2012 with the new U4 subway line.