Hamburg – your new home
About 8 percent of Hamburg's surface is covered by water, the element that makes the city an international gateway. Hamburg is also known as a Hanseatic city, a term dating from the Middle Ages, when it was a member of the Hanseatic League of trading cities. Hamburg's harbor is Germany's biggest seaport and is back on its accustomed growth path after a difficult business year in 2009.
That's why the port's "birthday" was celebrated with gusto by 1 million people over three days in May 2010 just like it is every year. Hamburg's citizens love their port. It's thanks to the harbour that the city has attractions such as the Ree­perbahn, which developed as a sailors' amusement area, or the famous Fish Market or the historic Speicherstadt, which is the world's largest warehouse complex, or the Hagenbecks Tierpark, Germany's most successful private zoo.
In the company of fish heads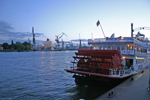 Hamburg residents, often affectionately called Fischköpfe (fish heads), frequently have a reputation as cool-headed north Germans, especially among newcomers. A second look soon reveals their emotional side. Many things make a Hamburg citizen's heart beat faster – such as the cherished swans on the Alster river or tasty Franzbrötchen pastries and the almost passionate love for St. Pauli soccer club.
Hamburg's nearly 2,500 bridges — the most in Europe — also have a special charm. Bridges are also built in politics – Hamburg is Germany's first and only state ruled by the Green Party and conservative CDU. Listed below is a brief statistical overview of the city on the Elbe river. They might also give you a glimpse into the Hanseatic soul