Face mask requirements across Germany!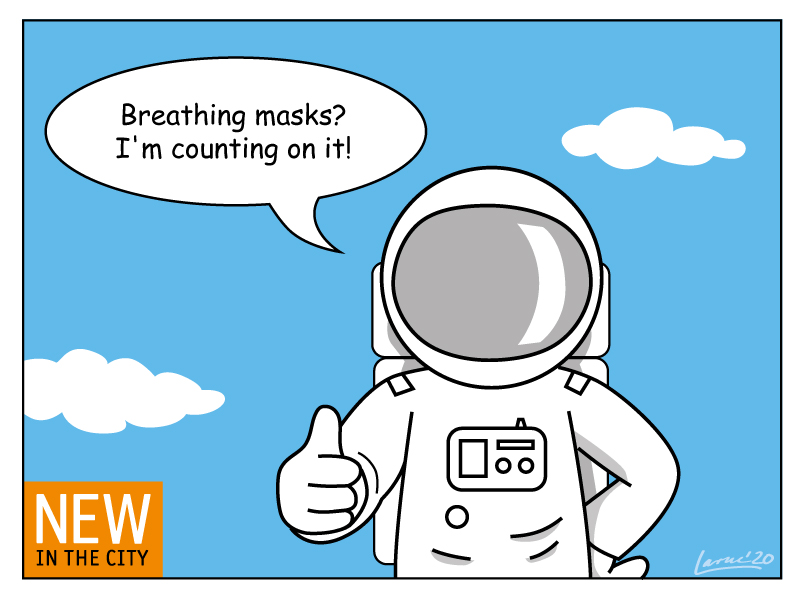 Coronavirus strikes NEW IN THE CITY!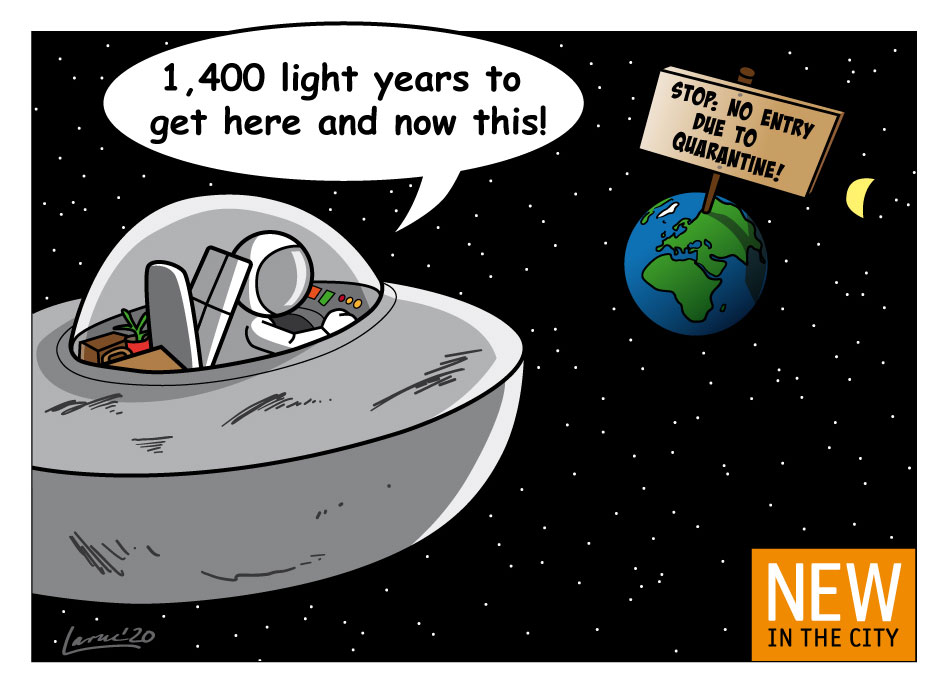 Dear "virtual-traveller,"
Many of you will be feeling the same as our astronaut: you planned to move house or you were looking forward to a city trip but now the all the borders are closed!
It will surely take some time until everything is running normally again. But expectation is half the pleasure, as the saying goes, so enjoy the anticipation for a little longer. Keep thinking positive thoughts.
You can use the waiting time to get to know your new home better from a distance or to plan your move so that it happens perfectly. We would like to support you! Very soon you will be able to download our NEW IN THE CITY magazine free of charge.
In the magazine, you'll find everything you need to know about moving, as well as the best places in your new home – and much more. And because our magazine is completely bilingual (German/English), it gives you a free German language course! Have fun and see you soon in Munich, Frankfurt, Berlin, Hamburg or Stuttgart,
Your NEW IN THE CITY team Team
Relocation during the coronavirus pandemic
The coronavirus is having a massive effect on our lives. Just like in in the travel industry, it also affects all the service providers in the moving and relocation industry.
Relocation agencies – waiting for borders to re-open
The main purpose of all relocation agencies is to ensure that new employees from abroad quickly find a new home, whether it's in Munich, Hamburg or Berlin. They also help newcomers with learning German and finding a suitable school for their children.
Many relocaters say their business has slumped by 75% to 90%.
The reason: employees are no longer allowed to travel to Germany and upcoming projects have been suspended by their companies. And even if employees are allowed to enter the country, they currently cannot get work visas because embassies and consulates are closed. Here, no online services cannot help because applicants have to appear in person.
These offices were already overburdened before the coronavirus crisis, so it's easy to imagine how much worse it will be after they reopen ...
More value for the same money Brand new from Ortel Mobile: EU-Flat
Advertising
© iStockfoto
Ortel Mobile, the leading German prepaid provider for people with a migration background, now has even better tariffs on offer. With them, everyone can now talk to their family and friends in the EU and many other countries for even longer. Some tariff options now include a brand new EU flat rate. This allows you to make unlimited calls to the EU and many other countries.
Ortel Mobile now offers even more for the same price. For example, all telephone calls within Germany – and from now on also within the EU – are included in the price of the Smart World XL. Other Ortel Mobile tariffs now also include the EU flat rate or large minute packages. With these, you can not only make calls from Germany to the EU and many other countries, but also from there back to Germany. This makes contact with friends and family in the EU and many other countries even more relaxed. Even to those who live outside the EU. Ortel Mobile offers up to 1,000 minutes for calls to 20 non-European countries such as Russia, Kazakhstan, Iraq, the USA and Canada.
New in the city? Welcome to your new home!
Make life simple!

If you are planning to move to Munich, Berlin, Frankfurt, Hamburg or Stutgart, this website is the right place for you.
NEW IN THE CITY, the bilingual city and relocation guide, is the ideal magazine for anyone who has moved to a new city or is about to – whatever their nationality. NEW IN THE CITY will quickly give you the best overview of your new home. We also provide useful information about moving and help you to find a place to live. And, of course, locals can also use our magazine to learn new things about their home town.
Find out more about the NEW IN THE CITY magazines in our shop.
Relocation agencies – the experts for settling in
© Caimacanul, Dreamstime.com
Companies are the main users of relocation agencies to make moving a lot easier for new employees. Most relocation agencies offer a complete relocation package. An agency can save foreign newcomers a lot of stress. The agency helps you find the perfect house, room or apartment and even takes care of the time-consuming bureaucratic registration process.
Relocation experts do not only organize the move itself, they can even help with cultural integration, e.g. finding a language school or organizing cultural events.
New in the city – moving is easy with the moving checklist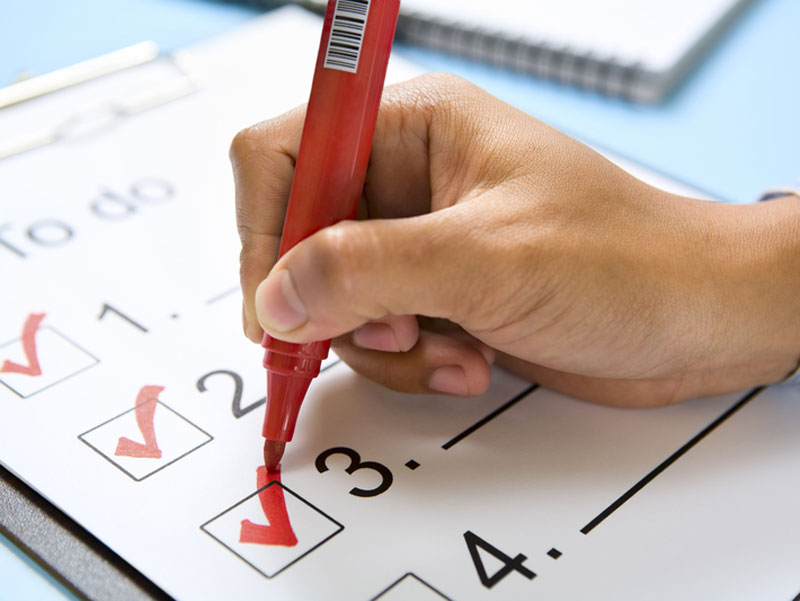 © Otnaydur, Dreamstime.com

Before moving to another city, a lot of things has to be organized and prepared. Often one underestimates the effort and time that such an undertaking takes. To make sure that no one loses track of what is going on, we would like to give you some help here in chronological order with the most important things to consider before and during the move.
Language schools teaching German
© NEW IN THE CITY
Scientifically speaking, there are two ways to learn German as a foreign language: the unsupervised method – picking it up on the street – or the structured approach in classes.
A mixture of both is probably best. Experienced language institutes prefer to use a varied blend of exercises for speaking, listening, writing, reading and vocabulary as well exercises as for pronunciation and grammar in their learning programs. These are supplemented by elements of regional studies.
Classes are in German right from the beginning, which creates an authentic feeling. The goal is to give students a basic knowledge of everyday German. Then they can go out onto the street to practice and improve on it.
In case you want to learn perfect German, Munich's "Spotlight Verlag" publishes the magazine "Deutsch perfekt" (www.deutsch-perfekt.com). Every month, correspondents from Germany, Austria and Switzerland write articles about society, politics and other topics. In addition, the magazine provides advice for people who want to live or work in Germany.
There are articles for beginners, intermediate and advanced students. Thus, students of all levels benefit from the magazine. New words are explained in simple German and there is an extensive vocabulary section with cards you can collect. "Deutsch perfekt" costs € 7.50 per issue at the newsstand. A one-year subscription costs € 80.40.
›› www.deutsch-perfekt.com
›› More information on language schools in Berlin, München, Hamburg, Frankfurt, Stuttgart, Cologne-Bonn, Düsseldorf an Ruhr Region
Help with apartment hunting
© D.aniel, Fotolia.com
There are many companies that offer quick help on the Internet if you're looking for a new apartment.
It's best to move into an apartment with a temporary rental contract arranged through a letting agency so you can take your time to find your ideal place to live. Or you can move into a room with a small kitchen in an apartment hotel for a short period.
Apartments for rent are listed in all major newspapers. The Süddeutsche Zeitung is particularly popular.
Landlords or housing agencies can also be approached directly. Or you could join a residential building cooperative where you will no longer be just a renter but rather a communal owner of the respective cooperative.
›› Here you can find the most important contact addresses for looking for property in Berlin, Munich, Frankfurt, Hamburg, Stuttgart, Cologne-Bonn, Düsseldorf and the Ruhr Region
World press – news from Germany and the rest of the world

© Svort, AdobeStock.com
Click here for the latest news from the most important newspapers and magazines in Germany and the rest of the world.