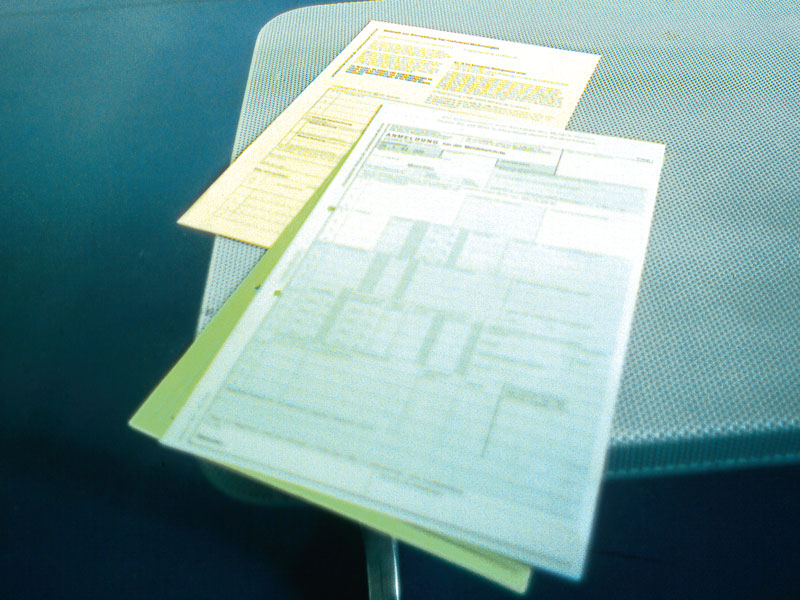 © NEW IN THE CITY
Put your name here, your address there, then sign on the dotted line... Becoming a registered resident of Berlin isn't quite so easy or quick. However, the trip to the Einwohnermeldeamt – Residents Registration Office – should be one of the first things you do. Berlin law says you must notify the authorities within two weeks of moving to a new district. If you fail to do that, you may have to pay a fine. And, of course, you won't feel like a true "Berliner" without a Berlin address on your ID card, right?



You can register in any one of the approx. 42 local government offices spread out over the city. All public authorities in the individual districts are networked with each other. Incidental services pertaining to address changes are free of charge. The required forms (Anmeldeformular and Anmeldebestätigung) can be obtained for free at the local public office or here via Internet download.

European Union citizens are entitled to choose their place of residence and work­place anywhere within the EU. Foreigners from non-EU countries have to take further steps after registration. For a residents permit – in the form of an electronic residents permit – non-EU citizens should go to the Lan­desamt für Bürger- und Ord­nungs­angelegen­heiten (State Administration Foreigners Authority).

Registration offices in Berlin
Main number for official matters: Tel. 115
---
Charlottenburg-Wilmersdorf
› Bürgeramt Halemweg, Halemweg 18
› Bürgeramt Heerstraße, Heer Str. 12
› Bürgeramt Hohenzollerdamm, Hohenzollerndamm 177
› Bürgeramt Wilmersdorfer Straße, Wilmersdorfer Str. 46
Friedrichshain-Kreuzberg
› Bürgeramt 1, Ortsteil Kreuzberg, Yorck Str. 4-11
› Bürgeramt 2, Ortsteil Kreuzberg, Schlesische Str. 27A
› Bürgeramt 3, Ortsteil Friedrichshain, Frankfurter Allee 35/37
Lichtenberg
› Bürgeramt 1, Egon-Erwin-Kisch-Str. 106
› Bürgeramt 2, Normannenstr. 1-2
› Bürgeramt 3, Otto-Schmirgal-Str. 1
› Bürgeramt 4, Große-Leege-Str. 103
Marzahn-Hellersdorf
› Bürgeramt Biesdorf-Center, Elsterwerdaer Platz 3
› Bürgeramt Helle Mitte, Alice-Salomon-Platz 3, Eingang Kurt-Weill-Gasse 6
› Bürgeramt Marzahner Promenade, Marzahner Promenade 11
Mitte
› Bürgeramt Tiergarten, Mathilde-Jacob-Platz 1
› Bürgeramt Mitte, Kar-Marx-Allee 31
› Bürgeramt Wedding, Osloer Str. 36
Neukölln
› Bürgeramt 1, Eingang Donau Str. 29 (Rathaus Neukölln)
› Bürgeramt 2, Sonnenallee 107
› Bürgeramt 3, Blaschkoallee 32
› Bürgeramt 4, Zwickauer Damm 52

Pankow
› Bürgeramt Karow/Buch, Franz-Schmidt-Str. 8
› Bürgeramt Pankow, Breite Str. 24a-26
› Bürgeramt Prenzlauer Berg, Fröbel Str. 17
› Bürgeramt Weißensee, Berliner Allee 252-260
Reinickendorf
› Bürgeramt Heiligensee, Ruppiner Chaussee 268
› Bürgeramt Reinickendorf-Ost, Teich Str. 65 (Haus 1)
› Bürgeramt Tegel, Berliner Str. 35 (am Borsigtor)
› Bürgeramt Märkisches Viertel, Wilhelmsruher Damm 142c (im Fontane-Haus)
› Bürgeramt Rathaus, Eichborndamm 215-239
Spandau
› Bürgeramt Rathaus Spandau, Carl-Schurz-Str. 2/6
› Bürgeramt Falkenhagener Feld, Westerwaldstr. 9
› Bürgeramt Außenstelle Kladow, Parnemannweg 22
› Bürgeramt Außenstelle Wasserstadt, Hugo-Cassirer-Str. 48
Steglitz-Zehlendorf
› Bürgeramt Lankwitz, Gallwitzallee 87
› Bürgeramt Steglitz, Schloß Str. 37
› Bürgeramt Zehlendorf, Kirch Str. 1/3
Tempelhof-Schöneberg
› Bürgeramt Lichtenrade, Briesing Str. 6
› Bürgeramt Schöneberg, im Rathaus Schöneberg, John-F.-Kennedy-Platz
› Bürgeramt Tempelhof, im Rathaus Tempelhof, Tempelhofer Damm 165
Treptow-Köpenick
› Bürgeramt I, im Rathaus Köpenick, Alt-Köpenick 21
› Bürgeramt II, Michael-Brückner-Str. 1