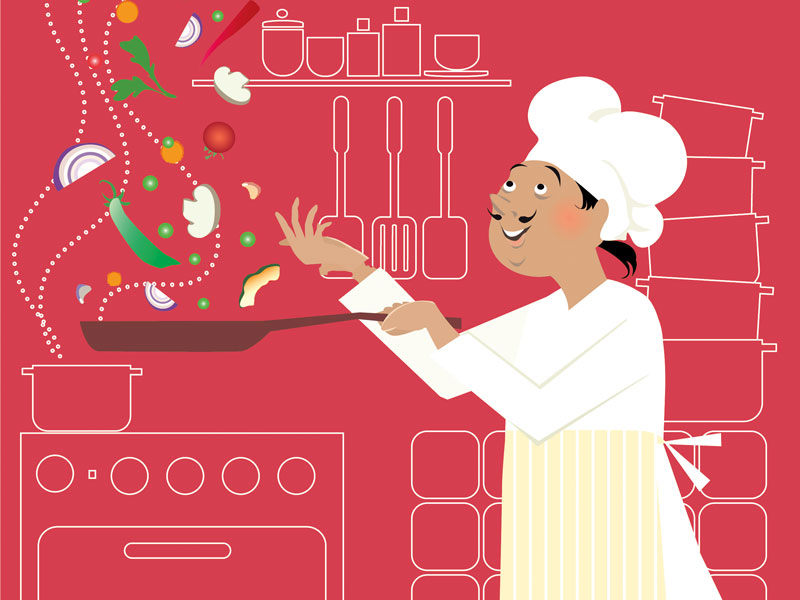 © Vanda Grigorovic, Dreamstime.com
Whether you fancy Asia, America, Africa or France, you can make a culinary voyage around the world, without leaving Frankfurt. Newly-opened restaurants such as Prime Cut 1000°, which serves tender, juicy steaks from an original American grill or the Vietnamese Vina Licious, hardly make the choice easier for adventurous palates, but they enrich the city´s gastronomic scene. Even Paris isn´t so far away, thanks to the relatively young Chambre d´amis, which can compete with any restaurant in the French capital in terms of atmosphere and food.
And the high-class Français establishment, where you can eat in luxurious surroundings that bring to mind Versailles Palace.
You can escape from the city´s hustle and bustle to Africa in the Savanna and experience a traditional Eritrean coffee ceremony while enjoying the country´s food specialties cooked strictly according to family recipes.

But there´s more to the international metropolis of Frankfurt than a glittering skyline and restaurants from all over the world.
Typically are the cider bars of Sachsenhausen and Bornheim, which can usually be found in small half-timbered houses where home-grown traditions are still maintained.
When you go to one of these quaint inns, you´ll feel as if you´ve gone back centuries in time.
Just like in the old days, people sit on wooden benches while eating Frankfurt sausages, rib of pork with cabbage or eggs in green sauce – washed down with cider of course, Frankfurt´s famous traditional drink.

If you´re a Frankfurt newcomer, you´ll need to know that the names Ebbelwoi, Stöffche and Schoppe all refer to cider.
And you should know that this drink is poured from a gray stone jug called the Bembel into a Gerippte, the classic cider glass.

Furthermore, you can enjoy cider not only on its own, but also "sauer gespritzt" (with mineral water) and "süß gespritzt" (with soda). With these terms in mind, you´re off to a good start in making yourself understood. And after a few Bembels of Ebbelwoi, pronunciation will no longer be a problem!