Promotion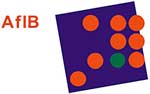 We are the AfIB - the Berlin Academy for International Education with the Albert Einstein Technical Secondary School for Design (Media), Social Services and Business, and we are offering an integrated educational concept that is unique in Europe.
We are Europe's first state-recognized, independently operated technical secondary school with its own flight school, the Leonardo da Vinci Flight Academy. If desired, our students can acquire a pilot's license at a special price, parallel to the 2-year, general advanced technical college certificate (11th and 12th grades). We give our students wings!
Each of our students is at the center of our educational work. We teach in small classes, with block instruction and nearly without class cancellations!
We especially rely on practical, real-life instruction, excursions, school projects involving the entire student body, "learning by doing" and teamwork as well as human caring. That is why our dedicated teachers and students are so committed and successful:


In the summer of 2012, 1st place in the ranking of technical secondary schools
The goal of our modern school is to promote the diverse potential of our students and their own development of their overall personalities. This involves both general educational instruction (German, mathematics, English, biology, physics, chemistry, social studies, law, sports) as well as specialized instruction (media design, media management, media and society; psychology, education, sociology; and business administration, economics and accounting).
Our students also test themselves in additional elective courses:
· film, theater, art, music, photography
· mental and intuitive training
· management
· career and company development
· life-saving, diving
· foreign languages
· communication training
· sailing and motorsports
· tennis
· pilot's license
At the same time, we develop new and diverse opportunities to unlock your creativity and independence in both traditional and non-traditional ways.
Through our Internships in Germany and abroad, our students gain international expertise, broaden their technical competency through professional experience, and deepen their foreign language skills. Since we have a substantial network of partners throughout the world, we establish multifaceted links to the national and international worlds of work.
Our concept includes regular educational guidance combined with learning psychology as well as a mentoring system where each student chooses an instructor as a personal contact. The trusting relationship between students and teachers is the basis for a congenial learning atmosphere where there is no shortage of humor!
With our individualized career path planning, we make it possible for students to start out successfully in their studies or professional life. With your general qualification for university entrance, you are entitled to take all courses of study at colleges of applied science and universities.
Oh yes, and our school director, Friedrich Pongratz, holds diplomas in psychology and sociology and is a flight instructor and a recipient of the German Federal Services Cross. A holder of a diploma in education, Martina Phylaktou is our deputy director. She is an educational scientist and child and adolescent psychotherapist with long experience abroad and as a teacher.
Requirements:
· Persons leaving the 10th, 11th and 12th grades of secondary school
· Students with a Certificate of Intermediate Education (MSA)
· Students with a Certificate of Secondary of Education and relevant professional education
Start of course work: Twice yearly in February and August!
Duration of course work: 24 months including internships in Germany and abroad.
We look forward to seeing you!
---
{gallery}photogallery/ber/afib{/gallery}
---
Contact:
:
AfIB Academy for International Education GmbH
Haubachstraße 8
10585 Berlin
Tel. 030 347 087 54
www.afib-berlin.de
E-mail:
This email address is being protected from spambots. You need JavaScript enabled to view it.