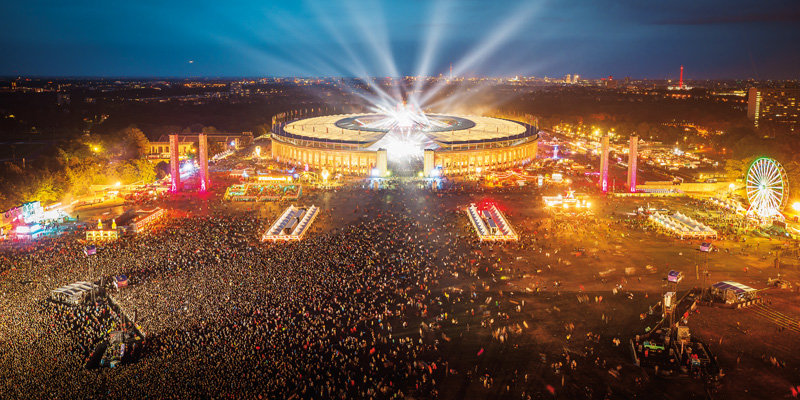 Lollapalooza Festival
Even if Berlin's legendary Love Parade is now a thing of the past, the metropolis on the Spree still has plenty of internationally recognized major events to offer. Events such as the Carnival of Cultures, the Festival of Lights or Christopher Street Day attract millions of people from near and far.

The most important cultural event is the International Film Festival, better known as the Berlinale which, with more than 16,000 industry visitors and 400,000 movie visits, is the largest public festival in the world. Around 350 movies are shown each February in the two main venues: the Cinemaxx and the Cinestar in the Sony Center – most of the movies are world or European premieres.

Berliners start the open-air season on Pentecost Weekend with the Carnival of Cultures, a four-day mega-event around the Blücherplatz in Kreuzberg with a large street festival as well as a huge selection of culinary, craft, and cultural attractions with 370 stands. Christopher Street Day, the famous gay and lesbian parade, which celebrated its 30th anniversary in 2008, is as colorful as the Carnival of Cultures – only with more zing – and is a permanent fixture of Berlin.

A highlight at the end of the summer is the Gauklerfest (traveling entertainer festival) in the historic center of Berlin between the National Opera and Hedwigs Cathedral, Kronprinzenpalais and Prinzessinnenpalais. Unicyclists, tightrope walkers, clowns and fire-eaters perform daring acrobatics and quality entertainment over 10 days. Of course, fans of conventional music can also find something in Berlin. The Classic Open Air at the Gendarmenmarkt in summer, the two-week music festival with international orchestras and soloists in September and the JazzFest in November entrance a large audience every year.

But it's not all about music and parties in Berlin: for example, the "Berliner Märchentage" (fairy-tale days) bring joy not only to children, with a wide variety of shows and attractions based on fairy tales. Likewise, during the Long Night of Museums, over 100 institutions open their doors to visitors until 2 am. Bored? That is a foreign word to a Berliner.