From breakfast to nightcap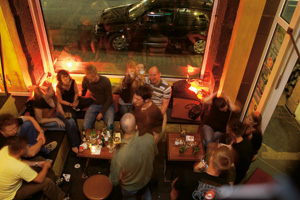 21. JahrhundertSunrise over the Main metropolis. The first Frankfurt citizens are up and about and wait for a cappuccino or a latte macchiato in Wacker´s, where the aromatic coffee is freshly brewed as fast as the wind and served with a delectable aroma. The city center café is one of the first to offer good coffee so early in the morning and more than a thousand people visit the cult little coffee house every day. As the first commuters arrive in the city, other cafés begin opening. In Sachsenhausen, the owners in the Liebesdienste (labor of love) hairdresser café switch on their coffee machine at around 10 o´clock. Naturally, a lot of love goes into the brew here, just as in the Walden coffee house, which has become a firm favorite with its fancy pastel-colored decor and emphasis on sweet things.
List of bars & cafés in Frankfurt
Das Leben ist schön, Oste.
Das Nord 2, Ostend
Schöneberger, Bornheim
Wunderbar, Höchst