How to become an official Berlin resident
Put your name here, your address there, then sign on the dotted line... Becoming a registered resident of Berlin isn't quite so easy or quick. However, the trip to the Einwohnermeldeamt – Residents Registration Office – should be one of the first things you do. Berlin law says you must notify the authorities within two weeks of moving to a new district. If you fail to do that, you may have to pay a fine. And, of course, you won't feel like a true "Berliner" without a Berlin address on your ID card, right?



How to get a Berlin license plate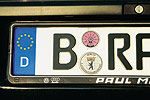 You can register your car or motor bike at the motor vehicle registration offices (Kraftfahrzeugzulassungsbehörden) in Friedrichshain-Kreuzberg or Lichtenberg. Bring your registration and certificate of ownership (Fahrzeugschein & Fahrzeugbrief), a proof of insurance, your old license plates and, should your car be older than 3 years, vehicel inspection and smog certificates (TÜV and AU-Bescheinugungen). You also need to bring your ID card and the registration form (Zulassungsantrag). You can download this application form here.
First aid – Emergency call and hospitals in Berlin
© Oleksandr Bilozerov | Dreamstime.com





Emergency services

---
Fire
›› 112

Emergency doctor
›› 112

Police
›› 110

ADAC car breakdown service
›› Tel. 01802/22 22 22

Duty pharmacy
›› www.akberlin.de

Doctors on call
›› Tel. 31 00 31, www.kvberlin.de

Drug emergencies
›› Tel. 1 92 37, www.drogennotdienst.de

Bank and credit card losses
›› Central hotline for most EC and credit cards.
›› Tel. 116 116 
›› Bank cards, Tel. 0 18 05/02 10 21 
›› American Express, Tel. 069/97 97 10 00 
›› Barclaycard, Tel. 040/89 09 98 77 
›› Euro-/Mastercard, Tel. 069/79 33 19 10  
›› Visacard, Tel. 0800/8 14 91 00

Crisis hot-line for women
›› Tel. 6 15 42 43  
www.frauenkrisentelefon.de

Berlin's municipal lost property office   
›› Tempelhof, Platz der Luftbrücke 6, to the right of the main entrance to the former Tempelhof airport, Tel. 9 02 77-31 01

Poisoning emergencies
›› Tel. 1 92 40, http://bbges.de

Child emergencies
›› 24 Stunden erreichbar Tel. 61 00 66
www.kindernotdienst.de

Ambulance service
›› Deutsches Rotes Kreuz, Tel. 19 727
www.drk-berlin.de

Locksmith
›› AS Team Berlin, Tel. 42 08 42 09, 
www.as-team-berlin.de

Gas, water problems
›› Berliner Wasserbetriebe, Tel. 08 00/ 2 92 75 87
›› GASAG Berliner Gaswerke, Tel. 78 72 72 
›› Vattenfall (Strom), Tel. 0 18 02/11 25 25

Help line of the churches 
›› 08 00/1 11 01 11 & 08 00/1 11 02 22 
www.telefonseelsorge.de

Animal emergencies
›› Tel. 83 22 90-00, -58, www.vet-doktor.de
www.tieraerztekammer-berlin.de

Midwives
›› Tel. 2 14 27 71  
www.hebammenruf-berlin.de

Dental emergencies
›› Tel. 89 00 43 33, www.kzv-berlin.de

Health advice

---
Alcoholics Anonymous
›› Siemensstadt, Wernerwerkdamm 36, Entrance Rohrdamm, Tel. 1 92 95
English-speeking groups: Tel. 7 87 51 88
www.anonyme-alkoholiker.de

AIDS counseling
›› Wilmersdorf, Meineke Str. 12, Tel. 8 85 64 00, Advice: 1 94 11
www.berlin.aidshilfe.de

Blood donations
›› Deutsches Rotes Kreuz, Am Großen Wannsee 80, Tel. 80 68 10
Free hotline: 08 00/1 19 49 11
www.blutspende-ost.de

Gesundheitslotsendienst Berlin
This hotline helps you find a doctor or specialist, even one who speaks your language.
›› Tel. 3 10 03-222, www.kvberlin.de

Hospitals

---
Charité Universitätsklinikum
›› Mitte, Charitéplatz 1, Tel. 4 50 50, 
www.charite.de

Deutsches Herzzentrum Berlin
›› Wedding, Augustenburger Platz 1,  
Tel. 45 93 10 00, www.dhzb.de

Dominikus Krankenhaus
›› Hermsdorf, Kurhaus Str. 30, Tel. 4 09 20
www.dominikus-berlin.de

DRK Kliniken Mitte
›› Wedding, Drontheimer Str. 39-40, Tel. 30 35 60 01
www.drk-kliniken-bln.de

DRK Kliniken Westend
›› Charlottenburg, Spandauer Damm 130, Tel. 3 03 50
www.drk-kliniken-bln.de

Helios Klinikum Berlin-Buch
›› Buch, Schwanebecker Chaussee 50, Tel. 9 40 10
www.helios-kliniken.de

Helios Klinikum Emil von Behring
›› Zehlendorf, Walterhöfer Str. 11,  
Tel. 8 10 20, www.helios-kliniken.de

Unfallkrankenhaus Berlin
›› Marzahn, Warener Str. 7, Tel. 5 68 10  
www.ukb.de

Vivantes Auguste-Viktoria-Klinikum
›› Schöneberg, Rubens Str. 125, Tel. 13 02 00
www.vivantes.de

Vivantes Klinikum im Friedrichshain
›› Friedrichshain, Landsberger Allee 49, Tel. 13 02 30
www.vivantes.de

Vivantes Klinikum Prenzlauer Berg
›› Prenzlauer Berg, Fröbel Str. 15, Tel. 13 01 60
www.vivantes.de